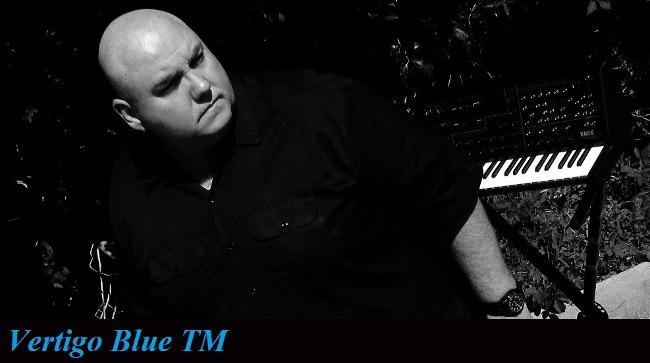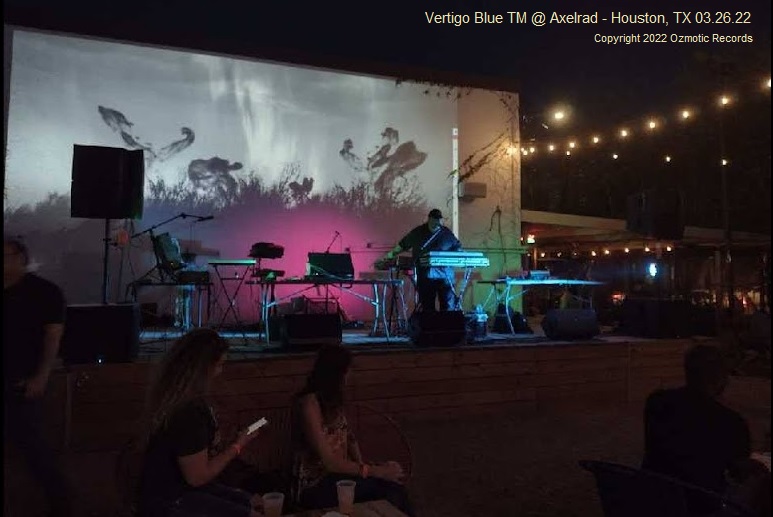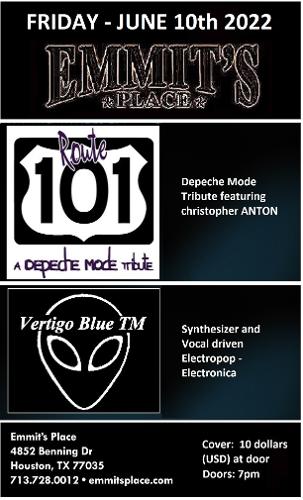 NEWS...
2022.

SHOW ANNOUNCEMENT:

Houston, Texas -

FRIDAY - JUNE 10th 2022
Performances by:

ROUTE 101 - Depeche Mode Tribute featuring christopher ANTON

Vertigo Blue TM - Vertigo Blue TM will be performing a Full Set

Emmit's Place

4852 Benning Drive Houston, TX. 77035

(713) 728-0012
Show starts at 9pm doors 7pm cover 10 dollars (USD) at door

NEW VIDEO - NOW ON the Vertigo Blue TM YouTube channel - To The Future (Lunar Orbit) a track featured on the upcoming NEW ALBUM titled DUSK coming soon!

Much Thanx to all who attended the recent show on Saturday - March 26th, 2022 at Axelrad - Houston, TX. It was also great to share the stage with MANA, UhStevenK, Slamazon Brainforest, Renku Corporation and John Allen Stephens. Thank you also to Axelrad, Modular Houston and Wonky Power Records for hosting the neon garden event and hope to see all of you soon again! - Mike Naus (Vertigo Blue TM)

March 2022 -

Vertigo Blue TM full length Albums, EPs and Singles are NOW AVAILABLE for listening on the Vertigo Blue TM YouTube Channel...
Be sure to Like and Subscribe!

New Album from Vertigo Blue TM
featuring 13 synthesizer driven experimental tracks
NOW AVAILABLE for download and / or streaming at:
Spotify, iHeartRadio, iTunes, YouTube, TIDAL, Apple Music, Amazon and many others.
_________________________________________

UPCOMING SHOWS:

T.B.A. Soon!

In between live performances:

Vertigo Blue TM has just completed his fourth studio album, "Dusk", with plans for release in early 2022. Vertigo Blue TM continues in the studio working on tracks for future release.

(((RADIO)))
Be sure to check out the Vertigo Blue TM Radio Station on iHeartRADIO!

A BIG THANK YOU to Coast To Coast A.M. for featuring Vertigo Blue in their Emerging Artists and picking up the song TUNDRA from the Area 51 album for bumper music: Visit Coast to Coast A.M. --click on Coast To Coast!
The NEW album FREQUENCIES FROM THE MOON and the new single, "Can We Take A Picture" by Vertigo Blue TM is now on i HeartRadio, YouTube and many music digital download and music streaming locations worldwide and including Spotify, TIDAL, Amazon, Bandcamp, Deezer, and quite a few others.
______________________________________
TOUR...
See Above show dates / info.
______________________________________

BOOKING Inquiries:

Send Email to:

__________________________________________________
Thank you from Vertigo Blue TM -

AREA 51 was recently listed on the CDBaby.com Top Selling Indie albums... THANK YOU TO EVERYONE who support what I do as Vertigo Blue! -Mike (VB)
__________________________________________________

MUSIC... Where to Hear and Available...
iHeartRADIO
YouTube
Visit and Subscribe to the Vertigo Blue TM YouTube Channel!
and at these locations...
Vertigo Blue TM - Albums, EPs and singles are available at most internet music digital download stores wordwide including... Spotify, TIDAL, Amazon, Apple Music, Pandora, Deezer and many more.
Also be sure to visit the Vertigo Blue TM Bandcamp page for minimal releases, singles and experimental EP and LPs.
Vertigo Blue TM Music Releases:
Albums: Area 51, Evolution, Abstract 1-10, Frequencies From The Moon
EPs: To The Future, Apollo 13
Singles: In The Night, Is This All A Dream, The Visitors, Ecstasy (Timewarp), From Another World, 1983, Raven In The Snow, Abstract 10, Filter, I Saw You - extended, Can We Take A Picture, TURN (Industrial Vortex Version), Christmas Day (Elevator Version)
Vinyl: (WE Records Release)
Djmmj vs. Vertigo Blue - Dance All Night
NOW AVAILABLE at Discogs.com
and available at most shows!

_____________________________________

Vertigo Blue TM BIO - HISTORY AND CURRENT -
Synthesizer driven music - who's original style clash between Electropop and Electronica.
Michael Naus Jr. who goes by the name Vertigo Blue is an American Composer who is based in the Houston, Galveston area of Texas. His music reflects his own versions of Synth -Pop, Electronica and Experimental Synthesizer music with tracks including Area 51, TUNDRA, AIR and Can We Take a Picture among those which have been featured on radio including i Heart Radio as well as in club, film, Corporate and Government business and as bumper music on the night time radio program Coast To Coast A.M. Three of his songs, Glowing In Black Mist, Intensity and On My Own, were featured in READ ON, a 2006 independent film by Jeff Faulkinbury. Two songs by Vertigo Blue were listed on The Entry List for Nominations for the Grammy Awards - Area 51 (50th Annual Grammy Awards in Dance Category) and U.F.O. Abduction was listed on The Entry List for the 54th Grammy Awards (Dance Category).
Aside from his music releases, Vertigo Blue TM has performed over 500 shows throughout the United States including sharing the stage with Nitzer Ebb, Peter Murphy (of Bauhaus), The Georgia Satellites, John Lefler (of Dashboard Confessional), Bad Manners, Psyclon Nine,Technical Itch, The Azoic and in 2015 sharing the lineup at Comicpalooza with Big Data at the George R. Brown Convention Center in Houston, Texas.
As the world presents with many interesting and winding moments and goings on... this is not the same Vertigo Blue from the HSS nor any relationship to the engineer or staff from that show. Vertigo Blue (also referenced to as Vertigo Blue TM, the TM for the legal Trademark name) began in 1996 in Houston, Texas prior to that time period of the other rock band who is no longer using the name...
At the start in 1996 Vertigo Blue as a trio had landed their song, "Christmas Day" on a Holiday compilation album, "CatClaus 96" released by a synthpop network titled Control-Alt-Delete. That year, Colin Travis and Stacey Quebodeaux teamed up with Mike to release the song, "Christmas Day"... which is now available on the Vertigo Blue TM Bandcamp Page and for listening on the Vertigo Blue TM YouTube Channel. After completion, Colin and Stacey returned to their other music projects. Mike continued as Vertigo Blue in a solo role initially composing experimental Electronica and signed with the Ultra Trec Records label in 1998 releasing an EP titled, "To The Future". Other of his compositions found their way onto numerous Electronica compilation albums released by We Records. In 2001 Mike started his own record label, Ozmotic Records which would continue to be the home label for Vertigo Blue TM.
Vertigo Blue TM music releases are found in both physical and digital format which include albums: Area 51, Evolution, Frequencies From The Moon, Apollo 13 (EP) and singles including Red Horizon, Raven In The Snow and Can We Take A Picture. These music releases are available at many online music locations including i Tunes, Amazon, beatsmusic, Tidal, Bandcamp and can be heard at MTV artists beta, i Heart Radio, YouTube and at many online digital music streaming locations worldwide. A few minimal release singles including "Christmas Day", an EP "To The Future" and Abstract 1-10 concept album by Vertigo Blue TM can be found at the Vertigo Blue TM Bandcamp page.
With quite a few years of working with synthesizers and as the artist Vertigo Blue TM, Mike has had the honor to be a Guest Speaker at St. Edward's University in Austin, Texas and also at Comicpalooza in Houston, Texas presenting a panel discussion on Creating Music with Synthesizers.
Vertigo Blue TM - Michael Naus Jr.'s compositions are on file and represented by BMI (Broadcast Music Inc.). A catalog of instrumental and vocal based compositions are available for film, television and commercial use. For more information, contact Vertigo Blue TM via the below email address.
Vertigo Blue TM continues to create synthesizer driven electronic music with plans for future music releases.
CONTACT:
Send Email to: vertigobluetm@gmail.com